14 Jan 2021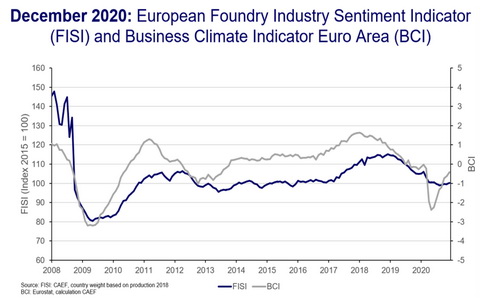 EUROPEAN FOUNDRIES CLOSE THE CRISIS YEAR WITH A CAUTIOUSLY POSITIVE SIGNAL
After the European Foundry Sentiment Indicator (FISI) took a break in the recovery process in the previous month, it increased moderately again at the end of the year. The increase of 0.8 points brings the index to a value of 100.2. While the development of the current situation is evaluated differently depending on the material, but is stable overall, expectations for the next six months in particular have increased significantly. Despite the in many cases significantly intensified pandemic countermeasures, which are affecting life in large parts of Europe, the foundries are slightly more optimistic about the coming six months. The vaccinations that began in December in most European countries raise hope to the companies.
Meanwhile, the difficulties in executing the vaccination campaigns, which had already become noticeable in some regions, were not anticipated when the data were collected, nor were possible influences from more contagious mutated forms of the virus. The long-awaited consensus in the negotiations on a trade and cooperation agreement between the EU and the United Kingdom will also first be reflected in the data for the following month.
Meanwhile, the Business Confidence Indicator (BCI) continues its recovery. In December, it increased by 0.2 points to an index value of -0.4 points and thus for the seventh time in a row.